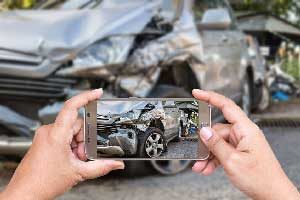 Auto accidents are stressful and frightening for most people. The best way to avoid panic in stressful situations is to have a plan, including a plan for what to do after an auto accident.
This list outlines the most important steps to follow after you have an auto accident.
Stop driving and calm down. Do not continue driving even if the accident is a minor one. As well, do not panic and get anxious or frantic, particularly if you have been hurt. Call 911 if you can. Otherwise, someone else at the scene is likely to do so. On the other hand, do not start yelling at the other driver for their carelessness. Do note they may also be agitated and uncontrollable. Remaining calm helps keep everything under control.
Survey the scene to determine how you can safely exit your vehicle. Depending on the type of crash, you might walk out, crawl out or get assistance leaving the vehicle. If you are injured, you might need to stay in place unless there is an imminent danger of fire or collision. Be wary of any oncoming vehicles that might crash into the wrecked cars or other vehicles that have stopped to help.
Set up warning reflectors or flares, if you have them, and keep your flashers on to prevent a pile-up if it is dark. Turn on your vehicle's lights if they are working and wait in your car if it is by the side of the road. If the accident is rather significant and the vehicles are in the middle of the road, do not wait inside your car. This is for your safety in case other vehicles could ram into your vehicle.
Report the accident. You must inform the police of the crash even if it is minor and few injuries have been reported. You will need a police report to file for claims with your insurance company. Police are also necessary to restore the flow of traffic if the accident vehicles have interfered with it. When the police arrive, be sure to give an accurate account of the accident. Do not guess or speculate what happened.
Collect witness names at the scene of the accident and exchange contact information. If the witnesses of the accident refuse to share their contact information, take their license plate numbers. Such information can be given to the police or your lawyer and will be useful when you make a claim.
Take a video or photos of the crash and scene. Take images and videos that capture the accident scene as accurately as possible. If you are not able to take pictures or videos of the scene, ask someone else to do so for you.
Get contact information of the other driver or drivers. Also, exchange contact information of insurers.
Cooperate with the police once they get to the accident scene. Answer the questions carefully but do not admit fault for the accident. Do what they tell you. Later be sure to obtain a report of the accident from the police department.
Seek medical attention. Let the emergency team help you and do have yourself checked at a healthcare facility even if you think you have not suffered severe injuries. Some injuries show up after 24 hours and may be severe. Other injuries can be noticed only by a trained medical professional. Prioritize getting medical attention.
Consult a Tulsa auto accident attorney as soon as you can. Do not make statements at the scene of the accident. Mainly, do not make any statements that could implicate you even if you were clearly in the wrong. Do not sign anything, or talk too much before you speak to your lawyer.
Contact your insurance company and notify them of the accident. You can inform the agent they sent to you. However, avoid lengthy discussions with the agent in the absence of your lawyer. Remember the agent represents the interests of the insurance company.
Take notes as soon as you can. Write down everything you remember about the accident and keep it safe in someplace. Keep accurate records of everything, including medical bills, police reports, witnesses' contact information, accident-scene photos and anything else related to the accident.
Free Consultation: Ask a Tulsa Personal Injury Lawyer
Have you been involved in an auto accident? Our personal injury lawyer in Tulsa, OK, can help you with what is required from a lawsuit to talking to your insurance company. Our lawyer is knowledgeable and skilled and has handled many other cases related to yours.
Do not struggle with anything to do with your auto accident alone. Talk to a Tulsa auto accident attorney today. Call Wirth Law Office at (918) 879-1681 for a free, no-obligation consultation.