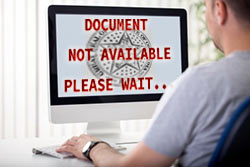 Some Internet data transfer speeds now approach the speed of light. Data transfer in Oklahoma courts is not nearly so fast.
Oklahoma courts' efforts to provide online access to statewide court records were moving at a snail's pace event before they came to a full stop on June 9, 2014. The Oklahoma Supreme Court backed out of an $11 million contract with American Cadastre, LLC that would have allowed electronic filing and provided online access to court records from all 77 Oklahoma counties in a single Web site.
The move followed the legislature's transfer of $10 million to an operations fund from the court's $30 million technology fund. The states contract with American Cadastre included a clause that allowed the state to back out if funds were not available.
Lawmakers: Did Not See That Coming
Legislators say they were blindsided. State Rep. Mark McCullough, chairman of the judiciary subcommittee of the House Appropriations and Budget Committee said court officials did not tell him during the legislative session they would cancel the contract if surplus court funds were transferred for operations.
The project to build a statewide case management Web site was already 18 months behind schedule when the Supreme Court pulled the plug on the project. The project had been scheduled for completion in 2016.
Currently, the public can access court records from 13 counties at www.oscn.net – the official state court Website. Case filings in most other counties are listed on a privately operated Website – www.odcr.com. That site, operated by KellPro, does not allow free public access to court documents. To best serve our clients, Wirth Law Office maintains arraignments that allow access to pleadings and other court filings on that privately operated Web site.
Before the contract was terminated, American Cadastre, LLC had been paid about $5 million of the $11 million contract. So far, only Noble County court records are listed in the redesigned statewide case management system. A test version of the site that lists is accessible here: www.oscn.net/applications/dockets/docketsearch.aspx.
Free Consultation: Tulsa, Oklahoma Attorneys
For the public, online access to court records makes it easier to keep up with court matters that affect an individual. If you are a party to a legal proceeding in Oklahoma and need to find out the status of that matter, contact a Tulsa attorney at Wirth Law Office for a free consultation. Our Tulsa attorneys can explore the status of your case and help you determine if you need to meet any critical deadlines.
For a free consultation with a Tulsa Oklahoma attorney, call Wirth Law Office at (918) 879-1681 or e-mail us our question using the form at the top of this page.