August 10, 2017
Prosecutor and Judge Clash Over Alleged Police 'Testilying'
Wirth Law Office's Okmulgee attorney Justin Mosteller told the Tulsa World a prosecutor's move to disqualify a judge could "cause a chilling effect … on judges in the future being able to scrutinize an officer's testimony like they would any other person in the courtroom."
Mosteller spoke to reporters after Okmulgee District Attorney Rob Barris filed a rare Motion to Disqualify, seeking to remove Okmulgee District Judge Ken Adair from all criminal cases in Okmulgee County. Barris alleges Adair could be biased against police officers because on four times in four years he found police testimony to be less than truthful.
Barris' filing did not dispute Adair's findings in the four matters, but alleged other circumstances added to an appearance of bias, including comments Adiar made to another judge and to a police officer. Barris also alleged Adair's visit to the scene of a traffic stop while a related case was pending in his court violated Oklahoma rules for judicial conduct.
The Tulsa World reporter noted that the Oklahoma Court of Criminal Appeals has affirmed Adair's ruling in one of the cases Burris cited, calling the arresting officer's conduct "a flagrant abuse" of a defendant's constitutional rights.
On Aug. 9, 2017, Judge Adair stayed all criminal matters pending in his court until Dec, 13, 2017. His order said the stays were intended to put criminal cases on hold until the court resolves the Motion to Disqualify. Wirth Law Office attorneys and others representing clients in Okmulgee District Court are concerned the stay to resolve a district attorney's motion could deprive defendants of a right to speedy trial.
Free Consultation: Oklahoma Criminal Defense Attorneys
If you have a matter pending in Okmulgee County that is affected by the stay of criminal cases and need to talk to an Oklahoma criminal defense attorney, call Wirth Law Office at (918) 879-1681. You may also send your question using the form at the top of this page.
July 25, 2017
Attorney James M. Wirth Invests in Tulsa
After five years at our West Fifth Street location and seven years establishing ourselves as one of Tulsa's fastest growing law firms, we at Wirth Law Office are proud to announce our upcoming move to a new downtown Tulsa location. Our new offices will be located at 500 West Seventh Street.
For our clients, we can promise the same tenacious representation you have always enjoyed. Our new offices are still just a quick walk from the Tulsa County District Court and City of Tulsa Municipal Court. That means your attorneys and support staff will be where the action is when your legal interests are at stake, ready to represent you on a moment's notice whenever the need arises.
For the firm, the move demonstrates our enduring commitment to the Tulsa community. When a key tract of rare downtown real estate became available, we seized the moment. We are currently upgrading the 6,500 square foot office building with energy efficient lighting, heat and air conditioning. We have planned elegant but cost effective offices, conference rooms and lobby areas worthy of the excellent and affordable service our clients deserve.
Same Excellent Service; Upgraded Tulsa Offices
When the dust settles and the new paint is dry, we will make an orderly move around the corner to the other side of the courthouse. During the purchase, build-out and relocation, we are making every effort to be certain our clients and associates enjoy seamless service with no perceptible disruption to our daily work.
Although we have not yet set an exact date, we anticipate a move sometime in September. We will make certain all of our clients, opposing counsel and other interested parties get timely notice before we move into our new offices.
This move anchors Wirth Law Office as a growing force in the Oklahoma legal community. We now own our locations in Tulsa and Muskogee, and we have maintained leased offices in Bartlesville, Okmulgee and Wagoner each for more than five years. Make no mistake: Wirth Law Office is on the move.
We encourage you to continue coming to Wirth Law Office for superb representation in all of your family law, criminal defense, personal injury, bankruptcy, estate and other Tulsa legal matters. And when your friends need an attorney in Tulsa or anywhere in Eastern Oklahoma, tell them Wirth Law Office is worth it.
Get a No-Cost Consultation with a Tulsa Attorney
If you need immediate representation in a legal matter, we absolutely have time to hear about your concern and consult with you about services we can offer. For a no-cost consultation with an attorney in Tulsa, call Wirth Law Office at 918-879-1681 or send your question using the form at the top of this page.
More News
September 3, 2010 – Okmulgee Web Site Up
The Wirth Law Office launches the Web site for its soon to open Okmulgee office. Go to www.okmulgeeattorney.com to see.
August 16, 2010 – Intern Hired
The Wirth Law Office hires recent University of Tulsa – College of Law graduate, Chuck M. Parrish, as a legal intern. Mr. Parrish took the Oklahoma Bar Examination in July and is set to receive his results on September 10, 2010. Upon swearing in to the Oklahoma Bar Association, Mr. Parrish will be an associate attorney working at the Wirth Law Office's Tulsa office.
August 2, 2010 – Wagoner Office Opens
The Wirth Law Office's Wagoner office (Wirth Law Office – Wagoner) officially opens catty-corner to the Wagoner County District Court. Wagoner resident and former Legal Aid attorney Paul J. Sowinski, Esq., is the lead attorney at the Wagoner office.
July 27, 2010 – Speedy Trial Dismissal
Attorney James M. Wirth appeared in court today for a client charged with writing a Bogus Check in 2001. Although, charges were filed and a warrant issued in 2003, the State of Oklahoma did not pick the defendant up to face the charges until January of 2010. The Wirth Law Office was retained on the case on July 6, 2010. Today Mr. Wirth appeared and expressed concerns to the prosecutor that they had violated defendant's right to speedy trial by failing to move the case forward for seven (7) years. Mr. Wirth requested that the prosecutor voluntarily dismissed the case; however, the prosecutor was unwilling to voluntarily dismiss. Mr. Wirth then made oral arguments for a dismissal based on a violation of speedy trial rights to the Court and the Judge granted motion, dismissing all charges pending against Wirth Law Office's client.
July 23, 2010 – Sentencing VIctory
The Wirth Law Office scored a victory for a client today when the client received a five (5) year deferred sentence on the charge of distributing cocaine to an undercover officer. The Assistant District Attorney assigned to the case strongly objected to a deferred sentence (which allows the case to be dismissed and expunged upon successful completion of probation), so the client, at Mr. Wirth's suggestion, blind plead to the judge. Mr. Wirth and the Assistant District Attorney made oral arguments, with Mr. Wirth requesting a deferred sentence and today the judge entered a deferred sentence for the Wirth Law Office's client.
July 19, 2010 – Assault & Battery Dismissal
The Wirth Law Office's client was charged with Assault & Battery when she attempted to break-up a fight between her child and her neighbor's child. Attorney James M. Wirth requested a trial on the matter and it was set for today at 2:00 p.m. When 2:00 p.m. came around, the prosecutor conceded that he had insufficient evidence available to put on the trial and dismissed all pending charges against Mr. Wirth's client.
June 25, 2010 – Domestic A&B Dismissal
Today attorney James M. Wirth obtained a complete dismissal on all charges against a client charged with Domestic Assault and Battery. From the beginning of the criminal filing, the alleged victim did not want charges pursued. At the arraignment, the alleged victim advised the district attorney's office of the same; however, they refused to drop the charge. The alleged victim later appeared at the district attorney's office for a second time, this time with her own attorney, and filled out paperwork noting she did not want the case pursued. The district attorney still refused to dismiss the case. It was not until Wirth Law Office attorney, James M. Wirth set it for trial, and appeared for pre-trial that the State finally dismissed the case.
May 26, 2010 – Felony Drug Dismissal
Wirth Law Office lawyer, James M. Wirth, appeared for a client charged with felony Unlawful Possession of Controlled Drug – Second Offense, Operating Vehicle without License Plate, and Failure to Carry Insurance. After arguments made to the prosecution regarding infirmities in the State's case, Mr. Wirth was able to convince the prosecutor to dismiss each of the three counts. Additionally, as the dismissal was received early in the case, the client is eligible for a complete expungement of the court case and arrest. This result was a great relief to the client who was facing a minimum sentence of two (2) years, with the possibility of as much as ten (10) years.
May 11, 2010 – Workers' Comp. Trial VIctory
Today the Wirth Law Office received the Order of the Workers' Compensation Court from a May 5, 2010 bench trial attorney James M. Wirth put on. Wirth Law Office's client was injured on the job but the employer refused to provide him with medical treatment and other workers' compensation benefits. The employer even called two of its current employees to the stand to testify that the client was never injured on the job. Despite the employers charades, the Judge agreed with Mr. Wirth's presentation of the case and awarded benefits to the client. Now the client can finally get the spinal surgery that employer was denying him.
April 26, 2010 – Dismissal
Wirth Law Office lawyer James M. Wirth, appeared for a client charged with Violation of the Compulsory Attendance Act and received a complete dismissal after brief arguments made in court.
January 26, 2010 – Felony Dismissal
Today Wirth Law Office lawyer James M. Wirth obtained a complete dismissal for a client charged with Endeavoring to Manufacture Methamphetamines. Until it was dismissed the charge carried the sentencing range of seven (7) years to life.
The client was originally charged with Manufacturing Methamphetamines; however, after fighting a two (2) day preliminary hearing which ended on July 6, 2009, the charge was reduced to Endeavoring to Manufacture Methamphetamines. The matter was set for Jury Trial on January 19, 2010. On the date of trial attorney, James M. Wirth, discovered a new technical argument that could be made against the charges and the matter was continued. On January 25, 2010,James M. Wirth filed a motion requesting dismissal based on the new argument. This morning, the case and all charges against the client were dismissed.
Grand Opening Announcement
Friday, January 1, 2010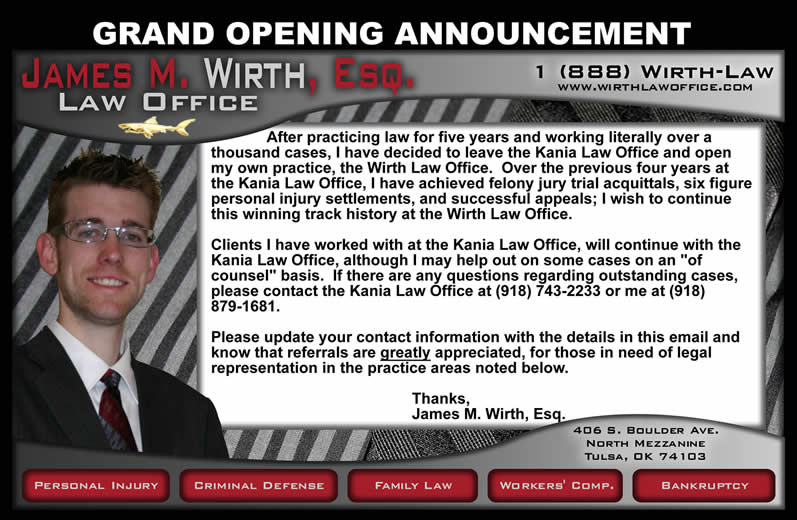 Email Text Notice of Grand Opening
After practicing law for five years and working literally over a thousand cases, I have decided to leave the Kania Law Office and open my own practice, the Wirth Law Office. Over the previous four years at the Kania Law Office, I have achieved felony jury trial acquittals, six figure personal injury settlements, and successful appeals; I wish to continue this winning track history at the Wirth Law Office.
Clients I have worked with at the Kania Law Office, will continue with the Kania Law Office, although I may help out on some cases on an "of counsel" basis. If there are any questions regarding outstanding cases, please contact the Kania Law Office at (918) 743-2233 or me at (918) 879-1681.
Please update your contact information with the details below and know that referrals are greatly appreciated, for those in need of legal representation in personal injury, criminal defense, family law, workers' compensation, and bankruptcy.