Youthful Offender Status Tied to Age When Charged, Not When Crime Committed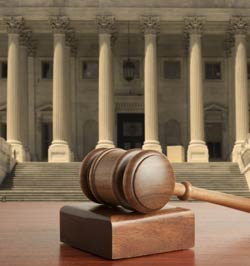 The Oklahoma Court of Criminal Appeals has decided in a March 20, 2015 opinion that adults charged for crimes committed in their youth must be tried and sentenced as adults. Literally interpreting Oklahoma law, the court tied juvenile status to the time charges are filed, rather than the time an offense occurred.
The ruling could significantly affect how juveniles and youthful offenders are adjudicated in Oklahoma – especially teens brought up on charges months or years after an alleged offense. As I will explain, the decision exposes a need for Oklahoma legislators to bring our state's laws into line with nationwide practices.
Sentencing people more severely based on their age when prosecutors file charges could raise 8th Amendment questions of cruel and unusual punishment. Legislators should revise the law before federal courts tell them how wrong they are.
Denied Certification as a Juvenile
The decision involved a 25-year-old charged for offenses alleged to have occurred 10 years earlier. The 25-year-old, identified only by his initials in T.G.L. v. Oklahoma (J 2014-0891), filed the appeal after a Mayes County judge denied his motion to be certified as a juvenile for sentencing on two felony charges.
The man had been charged as a youthful offender, then the state sought to sentence him as an adult. Among the impacts of the appellate decision, the defendant's full name will appear in future court filings because he was not afforded youthful offender status for alleged childhood offenses. His identity could otherwise be sealed, allowing him a chance to outgrow youthful mistakes.
The criminal appeals court concluded only a "procedural error" had allowed him to first be charged as a youthful offender. That "procedural error" stemmed from unusual language in Oklahoma law.
Poorly crafted language in the Oklahoma Juvenile Code and Youthful Offender Act, unlike laws of most nearby states, does not consider the age of a child when a crime occurred. Instead, Oklahoma law asks how old was the child when charged with a crime. Okla. Stat. tit. 10A §§ 2-5-202(A)(1), 2-5-205(A), 2-5-206(A),(B)
Because the court said juvenile or youthful offender status cannot rely on age at the time of an alleged offense, accusers, police and prosecutors may now have an incentive to delay reporting crimes or filing cases. Like those of most states, Oklahoma law provides more severe penalties for older youth and adults.
Until now, Oklahoma courts have often exercised discretion when certifying as juveniles defendants who were younger when alleged crimes occurred. Under the new ruling, prosecutors must charge older defendants as adults for youth crimes. Courts may not certify as juveniles youths who are charged long after an offense allegedly occurred.
Now, even a brief delay in filing charges can in some cases make a difference in how a case will be decided. The difference requires courts to mete out justice according to the timing of prosecution rather than according to criminal culpability of youthful offenders. That is not how our nation's laws are supposed to work.
Prison for Grade-Schoolers?
Laws that do not consistently adjudicate youths based on their mental capacity at the time of an offense could run afoul of the 8th Amendment prohibition against cruel and unusual punishment. A well established principle of U.S. law holds that criminal culpability is related to mental capacity of an offender.
The U.S. Supreme Court has in recent years outlawed the most severe punishments for children as cruel and unusual, based on the court's measure of our society's evolving standards of decency. Children lack the mental wherewithal to be liable to such severe punishment.
Yet, under current Oklahoma law a 7-year-old who deliberately murders a playmate, if not charged until six years later, must be tried as an adult. If not for the wisdom of the United States Supreme Court, Oklahoma courts might sentence that child to death, or life in prison without a chance for parole.
In the past 30 years, the U.S. Supreme Court has twice stopped Oklahoma courts from executing adults for crimes committed as a child. In Eddings v. Oklahoma 455 U.S. 104 (1982), the court required Oklahoma to consider a child's violent family history in death penalty deliberations. In Thompson v. Oklahoma, 487 U.S. 815 (1988) the court barred execution of someone who committed murder at the age of 15.
The Thompson court cited "evolving standards of decency that mark the progress of a maturing society" as the basis for a 1982 update to the standard for cruel or unusual punishment of children under the 8th Amendment.
A year after Thompson, the U.S. court approved execution for crimes committed by youths 16 or 17 years old. Stanford v. Kentucky 492 U.S. 361 (1989). The Stanford court cited Tison v. Arizona, 481 U.S. 137 (1987) to say the laws of various states can be tallied to calculate a societal consensus on what comprises unconstitutionally cruel or unusual punishment.
The court 16 years later again updated its calculus of the nation's evolving standards of decency in Roper v. Simmons 543 U.S. 551 (2005). After recalculating the mathematics of state capital punishment laws circa 2005, the Roper court held that no state may execute a person for crimes committed as a child.
Neither may states sentence a person to life without parole for crimes committed as a child. Miller v. Alabama, 567 U.S. ___ (2012). "(M)andatory life without parole for those under age of 18 at the time of their crime violates the 8th Amendment's prohibition on cruel and unusual punishments," Justice Elana Kegan wrote for the 5-3 majority. (emphasis added.)
Was LWOP for Children Decision Retroactive?
The Miller court's ban on life without parole for children continues to echo through appellate courts. The court in 2014 agreed to hear Toca v. Louisiana, which could settle divisions among states on whether the Miller mandate shall be applied retroactively to those already serving life sentences for juvenile crimes. Oral arguments were set for March 30, 2015.
Significantly for Oklahoma law, in cases involving the most severe punishments, the U.S. Supreme Court has consistently considered a person's age at the time of a crime to determine what is cruel and unusual punishment.
Youthful Circumstances are Mitigating Factors
As did the 1982 Eddings decision, Woodson v. North Carolina 428 U.S. 280 (1976) required courts to consider mitigating factors – including violent upbringings – before sentencing defendants to death.
If violent upbringings mitigate violent acts among adults, so much more does a child's environment mitigate moral culpability. A child might be in the throes of a traumatic childhood, or simply lacking the benefit of a fully developed brain.
When the Thompson court barred Oklahoma and other states from executing children 15 or younger the court stated explicitly – children are less culpable than adults. Why? "The basis for this conclusion is too obvious to require extended explanation," the court stated.
The concept of mental culpability  — or mens re (a guilty mind) — is a cornerstone of modern justice. The Supreme Court in Atkins v. Virginia, 536 U.S. 304 (2002) barred the execution of what it called mentally retarded individuals who lack the mens re to fully appreciate their culpability.
The Atkins court turned to Enmund v. Florida, 458 U. S. 782, 789-793 (1982) for judgment on the extent to which culpability informs what is unusual or cruel punishment. In that case, Florida sought to execute a get-away driver for murders committed by co-conspirators in a robbery.
"Enmund's criminal culpability must be limited to his participation in the robbery, and his punishment must be tailored to his personal responsibility and moral guilt," the Enmund court stated (original emphasis).
Current Legislative Judgment Counts
Another cornerstone of Atkins, Enmund, Tison and other 8th Amendment cases – including Penry v. Lynaugh, 492 U. S. 302, 331 (1989), Coker v. Georgia, 433 U. S. 584, 593-596 (1977) and Furman v. Georgia, 408 U. S. 238 (1972) – relies on a rough consensus among state laws as the "clearest and most reliable objective evidence of contemporary values" (Penry, Atkins).
By that measure, Oklahoma appears out of step with other states. Laws of adjacent states including Kansas, Arkansas, Texas, Colorado and New Mexico unambiguously cite the age of youth when an alleged crime occurred as the basis for determining charges and sentencing – not their age when they are eventually hauled into court.
Likewise the laws of some of our neighbors' neighbors, including Arizona and Iowa unambiguously relate criminal liability with age at the time of a crime. So do the laws of California, where 20 percent of the nation's population resides. Iowa law allows adults not previously certified as adult offenders to be remanded to juvenile court for offenses committed during their youth.
Missouri and Wyoming are arguably ambiguous about whether the juvenile certification is based on age at the time of an offense or the time charges were filed. Our survey reached Utah before we found a state where statutory language measures criminal culpability according to age when charges are filed.
Utah and Oklahoma combined comprise about 2 percent of the nation's population living in states where juveniles criminal liability is based on age at the time of prosecution. Based on what we found in the states we surveyed, we doubt a comprehensive survey would find many more.
Oklahoma Exception Eludes Juvenile Waiver Debate
If age when an offense occurs comprised the sole factor for determining what comprises cruel and unusual punishment of children, Oklahoma law would seem clearly contrary to the current direction of settled U.S. law. There is more to it.
The main 8th Amendment questions the Supreme Court has settled generally say laws must be proportionate to children's capacity for guilty knowledge, and to state's combined approach to punishing childhood offenders. Those decision, however, have addressed only the most severe penalties– capital punishment or life without parole for children.
Many legislatures, for better or worse, have taken hardline stances in favor of trying and sentencing youth as adults. Oklahoma in some ways is among the hard-line states that favor strident adult prosecution for youthful crimes.
When it comes to punishments short of death or life without parole – especially for teens – the current legislative judgment of states often weighs in favor of adult punishments for serious crimes.
According to the U.S. Department of Justice Office of Juvenile Justice and Delinquency Prevention, 45 states allow courts discretion to waive juveniles into adult court. Most states have multiple mechanisms whereby youths can be transferred to adult court.
Yet most states also set a minimum age for juvenile waivers into adult court for specified crimes.  Waiver laws vary widely from state to state, but only very few allow youth to be waived into adult court with no minimum age. And as we've shown, the norm considers age at the time of an offense – not the age when charges were filed.
The question of whether transfer is based on age at the time of a crime or age at the time of charges eluded even Department of Justice reviewers. The Department's failure in the 2011 Analysis of State Transfer Laws to notice that a few states mete out punishment based on age at time of prosecution suggests a nuanced difference not widely noticed even at the highest levels of justice planning.
Our quick survey of juvenile advocacy groups found widespread concern about juveniles sentenced as adults, but little attention to the "procedural" matter (as the Oklahoma court called it) of prosecution based on age when charges are filed.
As a Tulsa juvenile defense attorney, I hold that certification of youth as adults often results in cruel and unfair outcomes, although such outcomes are unfortunately common nationwide. What is unusual is jurisprudence based on age unrelated to an offender's mental status at the time of an offense.
Judges can sometimes buffer the impact of laws that unfairly force children into adult court – if the law affords them discretion. Where courts have an option to sentence people based on mitigating circumstances, prosecution of adults in adult courts for youth crimes could be part of a measured approach.
Courts should be allowed to weigh a youthful offender's mental capacity at the time an offense occurs – no matter how long passes before the offender is prosecuted. When an accuser's or prosecutor's decision to delay charges can move defendants into a system where mandatory sentences are spelled out, judges have no discretion.
In those cases, the punishment can be something other than the usual punishment for a person who committed a crime as juvenile.
Oklahoma Lawmakers Need to Fix It
The appropriate course of action would be for Oklahoma legislature to bring Oklahoma statutes in line with the prevailing standard of decency of our time. Youth should be prosecuted and sentenced based on their age at the time of an offense.
In those edge cases where youth reach adulthood before prosecution is brought, Oklahoma needs to revise mandatory-sentencing and repeat-offender laws to provide courts latitude. When sentencing adults for juvenile crimes, courts need a means to consider the child's mental capacity at the time a crime was committed.
The legislature has declared in Oklahoma law its intent that juvenile justice laws be liberally construed to provide enforcement by "means that are fair and just, that… recognize the unique characteristics and needs of juveniles." Okla. Stat. tit. § 10A 2-1-102.
Simply declaring that laws should be liberally construed is not adequate. It leaves courts to do work properly assigned in a tripartite system to the legislative branch. Until now, Oklahoma courts have often set aside cases where youthful offenders have outgrown the childish behavior that led to youthful offenses. The recent Court of Criminal Appeals decision could deny courts that discretion.
When the law declares stern punishment for adults, denies judges leeway to recognize the characteristics of juveniles prosecuted as adults, the punishment becomes unusually cruel. Oklahoma needs to fix that.
Free Consultation: Tulsa Juvenile Defense Attorney
If you or a family member is facing charges as a juvenile or a youthful offender in Oklahoma, you need a knowledgeable attorney to help you achieve the best outcomes. If you are prosecuted as an adult for youthful offenses, an Oklahoma juvenile defense attorney should fight to help you avoid unfair punishment for offenses alleged to have occurred when you were younger.
For a free consultation with a Tulsa juvenile defense lawyer, contact Wirth Law Office at (918) 879-1681 or ask a question using the form at the top of this page.
Tags: 8th Amendment, criminal defense attorney Tulsa, Eighth Amendment, juveniles, Oklahoma Court of Criminal Appeals, youthful offenders