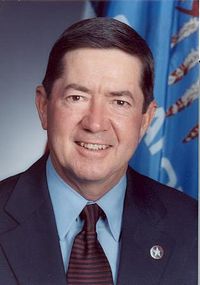 A commission charged by the Oklahoma Bar Association to find ways to improve reliability of criminal convictions has returned some advice for state officials. The panel identified a long list of reforms that could reduce the frequency of wrongful convictions in Oklahoma.
Led by former state Attorney General Drew Edmondson the commission reviewed how false confessions, erroneous eyewitness identifications, flawed forensic evidence and other criminal procedures contribute to an "alarming rate" of wrongful convictions. The Oklahoma Justice Commission Report notes that causes of wrongful convictions in Oklahoma "tracked national results and previous studies in other states."
The commission, however, didn't want to assume the same factors affect wrongful convictions in Oklahoma. The 33-member panel spent two years in "animated and thorough" discussions among diverse members. The panel included seven law-enforcement representatives, four current or former prosecutors, four current or former Oklahoma defense attorneys, three judges, two legal scholars, two members of the state legislature, members of the public and members of several justice advocacy groups.
While the Commission's findings track national patterns, independent data points to one stark statistic that highlights the urgency of preventing wrongful convictions in Oklahoma. Our state incarcerates a greater proportion of its population than all but four other states. Oklahoma leads the nation in the proportion of women in prison. Oklahoma imprisons women at nearly twice the national rate.
Even if our justice system wrongfully convicts people for the same reasons as other states, the greater number of people imprisoned can contribute to a greater sense of fear among the wrongfully accused. And with more people in jail or prison, there are more inmates available to offer false testimony in exchange for a deal.
False testimony by jailhouse informants was among the first concerns addressed in the report's analysis of how criminal procedure contributes to wrongful convictions. But the report's first section dealt with false confessions. Among the forms of "intense psychological pressure" that lead to false confessions in Oklahoma, the threat of a death sentence is the first listed.
For Oklahoma residents accused of a capital crime, the threat of lethal injection is very real. Only two states — Texas and Virginia — have executed more people since 1976 but the rate of executions in Oklahoma compared to state population is greater in Oklahoma than in any other state, according to the Death Penalty Information Center.
Why Affective Criminal Defense Attorneys Matter
The Justice Commission Report provides recommendations for lawmakers, law enforcement officials, prosecutors and trial judges but it can also serve as a handbook for criminal defense attorneys in Oklahoma. "Ineffective assistance of defense counsel is a major issue contributing to the wrongful conviction of many individuals," the report states.
The Tulsa criminal defense attorneys at Wirth Law Office are keenly aware of the harm caused by overworked, underpaid attorneys  as referenced in the Justice Commission Report. We see overworked public defense attorneys struggling to provide effective representation using only the resources state officials make available. And we're aware attorneys who fail to keep their focus on a vital job can let down clients, with sometimes devastating consequences. We routinely review state Supreme Court cases where attorneys are disciplined or disbarred — often for personal issues related to avoidable conditions.
Free Consultation: Criminal Defense Attorneys in Tulsa
To Wirth Law Office's criminal defense attorneys in Tulsa and surrounding communities, the report is yet another reminder of the cold realities our clients face in a sometimes wayward criminal justice system. If you or your family member is facing criminal charges in Tulsa, Oklahoma, the risk of long-term incarceration — in some cases for acts that have been decriminalized in an adjacent state — can be very real.
For a free consultation with a criminal defense attorney in Tulsa Oklahoma, call the Wirth Law Office at (918) 879-1681 (or toll free at (888) Wirth-Law) or submit the question form at the top right of this page.
Click this link to download the full Oklahoma Justice Commission report.