A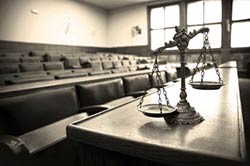 n Oklahoma court has decided a defendant does not have the right to confront authors of a list that tracks cold pill purchases used as evidence in criminal trials. The decision chips away at a constitutional protection known as the confrontation clause.
The confrontation clauses of the Oklahoma Constitution and United States Constitution alike afford people accused of crimes a right to confront witnesses against them. In criminal trials, the confrontation clause often informs whether out of court statements can be used in court.
The US Supreme Court has generally established that, unless a defendant can examine the source of an out of court statement to challenge prosecutors' claim that the statement is reliable, such evidence is usually considered inadmissible hearsay.
The Oklahoma Court of Criminal Appeals' unpublished January 2015 decision cast light on the Oklahoma court's current view of the confrontation clause in criminal cases where prosecutors use the Oklahoma pseuodephedrine monitoring program. The program, dubbed the PSE system, is part of the interstate National Precursor Log Exchange (NPLEX), which tracks sale of over-the-counter drugs used as precursors for manufacture of methamphetamine.
14 Years in Prison for Cold Pills
The Oklahoma case started in Grady County in 2012, when narcotics agents used the PSE system to launch an investigation that led to the arrest of a woman for buying $40 worth of generic Sudafed.
The woman admitted to investigators she had bought the cold pills for use in making meth, the Oklahoma appeals court noted. She was convicted and sentenced to 14 years in prison – the minimum sentence for a person with a prior felony.
The report relied on pharmacists' data entries to suggest 33 other occasions when the woman had bought or tried to buy regulated cold pills in 2011 and 2012. On appeal, attorneys for the woman argued that the state should be required to demonstrate reliability by having the people who created the report testify prior to it being introduced into evidence. The criminal appeals court disagreed.
The precursor monitoring program is a business record maintained primarily to help pharmacists determine when they may legally sell cold pills, the court concluded. Oklahoma law provides an exception to the hearsay rules when business records are introduced at trial, the court noted. Okla. Stat. tit 12 § 2902(11).
To justify its lax view of a defendant's right to examine the source of out of court statements, the Oklahoma criminal appeals court quixotically cited a U.S. Supreme Court case that recognized a constitutional right to confront lab personnel when drug tests are used as evidence in courts.
That case, Melendez-Diaz v. Massachusetts, 557 U.S. 305 (2009), relied on a test defined in Crawford v. Washington, 541 U.S. 36 (2004) for determining when out of court statements can be used as evidence. If a person makes a statement knowing it is likely to be used in a criminal trial, the person who made the statement is treated as witness providing testimony.
Records that are prepared knowing they may be used in criminal trials are inadmissible as evidence unless the person who prepared the records is available to testify, the US court reaffirmed in Melendez-Diaz. Such records are considered to be testimonial. Otherwise, if the defendant cannot confront witnesses who created the records to be used as testimony, the records would be inadmissible hearsay.
The Melendez-Diaz court reiterated a broad definition of testimonial evidence as including "pretrial statements that declarants would reasonably expect to be used prosecutorially."
Remember Your Right to Remain Silent
Before I explain why a person should not roll over and play dead when a prosecutor claims a defendant has no right to confront as witnesses, we should first dispense with a caveat. The defendant in this case confessed, according to the appellate court record.
As is often the case where a confession or similar inculpatory statement is alleged, the case nonetheless went to a jury trial where the defendant maintained her innocence. Jurors in Oklahoma criminal trials are instructed that a confession must be corroborated by other evidence to support a criminal conviction. OUJI CR 9-13.
The lesson here is that you have a right to remain silent and you should use it. When confronted by police in a situation where you could be charged with a crime, you almost always do best to avoid making any statements without the advice of an attorney.
"It was possession of the precursor for the illicit purpose that constituted a crime in this case," the court wrote. The box of cold pills the she had in her truck could corroborate an admission that she possessed a precursor. Yet, the court swept away arguments that most of the evidence corroborating her admitted illicit purpose relied on hearsay.
Any error that resulted from hearsay was harmless and did not affect the outcome of the trial, the court concluded. Without the woman's supposed confession, the court might not consider hearsay evidence to be so harmless.
Primary Purpose Test for Testimonial Statements
Although the court found most of an agent's testimony about the investigation was either within his personal knowledge or harmless hearsay that did not affect the jury verdict, the court replied at length to arguments the PSE reports were inadmissible hearsay.
The court cited Crawford  which set out the testimonial statement test, and Davis v. Washington, 547 U.S. 813 (2006), which carved out a primary purpose test to determine whether evidence is testimonial in nature.
In concluding the PSE system is not primarily created for prosecutorial purposes, the Oklahoma court paradoxically observed that "reports generated by the tracking system are created for the administration of OBN's (Oklahoma Bureau of Narcotics') official duty of monitoring sales of psuedoephedrine and enforcing state and federal laws."
The court even noted its previous published decision in State v. Davis, 2011 OK CR 22, which found "[t]he real-time log is clearly a tool authorized to help monitor sales of pseudoephedrine, in part, to assist with the enforcement" of Oklahoma's Uniform Controlled Dangerous Substances Act. Okla. Stat. tit. 63 § 2-212(A)(2).
The PSE monitoring system is administered by the Bureau of Narcotics, pharmacists participation is mandatory, and OSBN agents use reports from the system to initiate investigations – including traffic stops that lead to felony arrests. Yet the system is primarily a business record when used in a criminal trial, the Oklahoma court concluded.
Since the Bureau of Narcotics PSE Monitoring System is primarily a business record to help pharmacists know who can buy cold pills, it is not primarily testimonial, the Oklahoma court reasoned. That means reports pulled from they system may be admissible even when pharmacists who generated information in the reports are not available to testify.
The Oklahoma court did not fully elaborate its interpretation of the primary purpose test. More recently than the 2006 Davis decision, the U.S. Supreme Court in Michigan v. Bryant, 562 U.S. ___ (2011)  elaborated its more authoritative version of the primary purpose test to determine whether hearsay evidence is testimonial.
The primary purpose test emerged from cases involving statements made to police during an emergency. In Bryant, the US court set out a test that considers the circumstance of an encounter and the formality with which police hear a statement.
An informal statement made to police during an emergency is less likely to be testimonial than a formal statement made when there is no emergency, the Bryant court said.
Rife With Room for Injustice
To understand why the testimonial and primary purpose tests as the Oklahoma court lately interpreted them can fail to afford justice, we can consider a hypothetical case.
Consider a smurfing enterprise where a meth maker repeatedly uses a forged identity to purchase cold pills. For the sake of argument, let's say the meth lab operator accessed online court records to steal the social security number and drivers license number of a person previously convicted of drug possession.
(Smurfing is street slang – embraced sometimes by narcotics investigators – that refers to the systematic purchase of cold pills for use in making methamphetamine.)
One day the young parent who is the victim of identity theft goes to the pharmacist to buy cold pills for an ill four-year-old. Refused access to cold pills at one discount store, the parent drives to another pharmacy and gets the over-the-counter medication. While she is driving home, police stop her.
Narcotics agents had noticed someone using her name appeared on their list of frequent cold-pill buyers. They take the worried mother into custody for questioning.
They berate her with their long list of pseudophedrine purchases logged under her name. They wave the seized box of over-the-counter cold pills in her face, remind her of the previous drug conviction and frighten her with a potential lengthy sentence if she does not cooperate.
Anxious to get home to her sick child, the mother acknowledges that cold pills can be used to make meth. She acknowledges she knows repeated purchase of cold pills can be illegal. She thinks she's starting to get somewhere by cooperating with increasingly friendly interrogators – until they switch tactics.
The wearisome interrogation tactics work. Investigators elicit from her statements they construe as a confession.
At trial, the state is allowed to enter the list of alleged prior purchases without calling whomever entered the data testifying as to its accuracy. A statement against interest such as a confession is usually admissible.
Since narcotics agents neglected to record her confession, it becomes her word against theirs that she confessed. Their version of what she said is admissible. So are the "business records" pharmacists were required to provide.
Now, who is a jury going to believe: a convicted drug user or PSE system records log?
A conviction nets a 14 year sentence. By the time 14 years have passed, her child would be 18 years old.
Another Back-Door Precedent?
Because the Oklahoma Court of Appeals January, 2015 decision was unpublished, it might have little if any precedential value. The same court has, however, recently used unpublished decisions to set precedent declared in subsequent rulings.
As it now stands, an Oklahoma criminal defense lawyer defending against charges of illegal purchase of cold pills may need to be meticulous about how a case is presented at trial. Matters neglected at trial can be barred from later being raised on appeal.
If you are charged with purchasing cold pills contrary to Oklahoma law, you need to know prosecutors in Oklahoma are exceptionally zealous in seeking conviction. Oklahoma criminal courts appear more than willing to side with prosecutors in taking a narrow view of the right to confront witnesses.
The courts have favored prosecutors' expansive reliance on hearsay evidence outside the confrontation clause even in cases where the law is ambiguous and where purchases of over-the-counter medicine that are legal one time might become a felony for the same person the next time.
Free Consultation: Tulsa Criminal Defense Lawyer
For a free consultation with a Tulsa criminal defense lawyer about hearsay evidence, the confrontation clause in Oklahoma, or charges of possession of a precursor with intent to manufacture a controlled dangerous substance, call Wirth Law Office's criminal defense attorney at (918) 879-1681. You may also submit your question using the form near the top of this page.
Tags: confrontation clause, criminal attorney Tulsa, criminal defense attorney Tulsa, hearsay evidence, primary purpose test, testimonial